Cosmetic Dentist Staten Island
Specialties: Porcelain veneers, dental implants, Invisalign, smile makeover
Real Patients, Real Results
Dr. Gershkowitz is the best Staten Island cosmetic dentist has to offer specializing in Staten Island dental implants and Staten Island dental veneers
At Sola Dental Spa you'll find the most advanced dental technology operated by the top in the field dentists. Whether you're interested in the complete smile makeover or replace a missing tooth with dental implants or simply looking to boost your smile with a professional teeth whitening procedure, our talented cosmetic dentists in Staten Island are here to help you look and feel your best. We offer full range of cosmetic dentistry, general & restorative dental treatments in our Staten Island family focused dental office.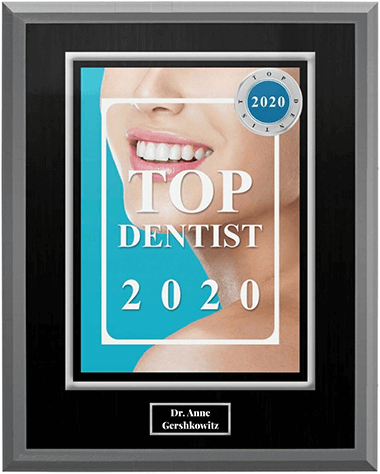 Sola Dental Spa is so proud to announce that Dr Anne Gershkowitz has been named a Top Dentist in 2020!
Sola Dental Spa Serving your Dental Needs
Professional and affordable dental implants & dental veneers
Welcome to Sola Dental Spa
We are your Staten Island dentist. We offer you a range of cosmetic and functional dental services that will have your teeth functioning properly, and your smile looking greater than ever before.
We are the dentist in Staten Island who can offer you the latest technology, a tranquil atmosphere, and the highest levels of customer service. Sola Dental Spa is owned by Dr. Anne Gershkowitz, a nationally recognized dental practitioner of general dentistry and cosmetic dentistry.
We are the cosmetic dentists for you, and we offer you various cosmetic dentistry services like dental veneers, dental implants, Invisalign and Root Canal treatment in Staten Island
.
What Patients Are Saying
Our patient's comfort is always our number one concern.

Dental Porcelain Veneers
"My whole smile changed before my eyes.Dr. Gershkowitz is one of a kind. She made me feel very special. She is the best there is."
-Orksana

Porcelain Veneers Smile Makeover
"A four-hour procedure turned my smile around. Dr. Gershkowitz made my smile especially for totally unique in color, style and shape."
-Julia

Dental Veneers
I loved the soothing atmosphere. I was so relaxed, I fell asleep in the chair, no other place you can go to get the same experience."
-Nicholas
---
Dr Anne Gershkowitz invites local residents of Staten Island, Brooklyn, New York (NY), New Jersey (NJ) and other local areas to experience superb treatment of cosmetic dentistry procedures such as porcelain dental veneers, dental implants, Invisalign - clear braces, teeth whitening, crowns and bridges, smile makeovers, all-ceramic inlays and onlays and other restorative dental procedures using the most advanced dental technology in a spa environment.
We're conveniently located in the center of Staten Island, New York (NY).
---