Book Consultation
Please leave your contact info and we will contact you back
DENTAL IMPLANTS:
An Effective Way to Replace Missing Teeth
While science hasn't found a way to regrow lost teeth, modern dental implants provide an excellent solution for replacing missing teeth and restoring your smile. Implant techniques allow patients to regain confident chewing and speaking even when teeth are lost.
A dental implant is a small titanium screw that integrates with the jawbone, effectively serving as an artificial tooth root. The implant fuses to the bone during healing and can securely hold a replacement crown, bridge, or denture in place.
Attaching replacement teeth to implants rather than adjacent teeth provides reliable stability and allows for comfortable biting and chewing. Implants transfer pressure directly to the jaw, just as natural tooth roots do. This prevents bone loss and damage to nearby teeth.
Dental implants offer one of the most advanced and effective restorative options in modern dentistry. They can bring back complete smile functionality without compromising aesthetics.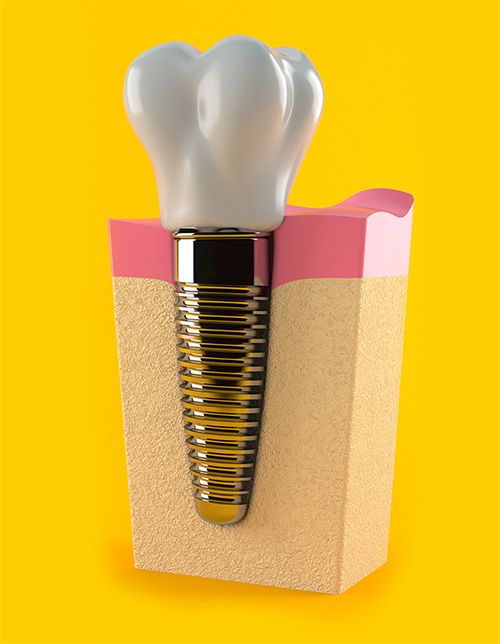 Experience the Benefits of Dental Implants
Dental implants are an effective and commonly recommended treatment for replacing missing teeth. Implants have high success rates and provide many benefits for restoring your smile and oral health.
Safe and Effective Tooth Replacement Dental implants have over 95% success rate when placed by an experienced dentist. Using biocompatible titanium, they fuse securely to the jawbone through osseointegration. Implants are a safe, proven way to replace missing teeth.
Prevent Bone Loss and Sagging Unlike dentures, implants halt bone loss after tooth extraction, preventing facial sagging. The titanium integrates with the jawbone, maintaining facial structure.
Restore Bite Force and Chewing Ability Implants allow you to eat whatever foods you love with confidence. They restore full bite force so you can enjoy crunchy, chewy foods that dentures restrict.
Improve Speech and Self-Esteem Missing teeth can cause embarrassing slurred speech. Dental implants allow clear pronunciation and improved self-esteem with a complete, natural-looking smile.
Long-lasting and Convenient With proper care, implants can last decades. There are no adhesives or removal for sleeping or cleaning. Implants restore quality of life and convenience.
To determine if you are a good candidate for dental implants, schedule a consultation with our experienced implant dentist. We will examine your individual case and advise if implants can restore your smile.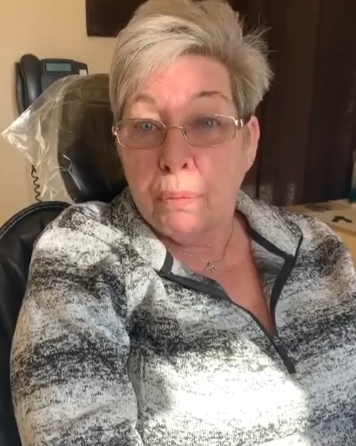 DENTAL IMPLANT SUPPORTED DENTURES
Implant Supported Dentures ! Anything is possible @soladentalspa Another happy patient is another successful day at the office 🌟
What Are the Benefits of Dental Implants?
Why Dental Implants Are Superior to Removable Dentures
Dentures on implants are much stronger than bridges. With correct and regular care, they serve for life.
Dental implants restore 100 percent chewing effectiveness. A dental bridge restores only about 30-40 percent of chewing effectiveness. Dental implants are a fixed design. Dental implants all-on-4 treatment technique (when all jaw teeth are based on only 4 implants) helps avoid the discomfort that people often feel when they wear a partial denture. Dental implants NY will make you feel as if you had your own healthy teeth.
Healthy teeth contribute to the proper functioning of the digestive system, make the face beautiful by restoring the function of the facial muscles, restore self-confidence.
POSITIVE EFFECTS ON HEALTH
A dental implant restores the root of the tooth. So dental implants can reduce bone damage. This method of tooth restoration allows adjacent healthy teeth to remain intact. The situation is different with bridges. For bridgework, it is often necessary to grind adjacent teeth. Besides, these teeth suffer from an additional load, since they become abutment teeth. Titanium and zirconium alloys are mainly used for dental implants. These are bioinert materials for the human body, the use of which allows achieving good engraftment results.
Dental implants types are usually distinguished only by specialists. Modern dentistry uses zirconium for dentures on implants. This material is highly regarded for its strength and cosmetic in modern dentistry. Zirconium is permeable to light, therefore, has the transparency characteristic of natural teeth. Even in neon light dental implants glow like natural teeth.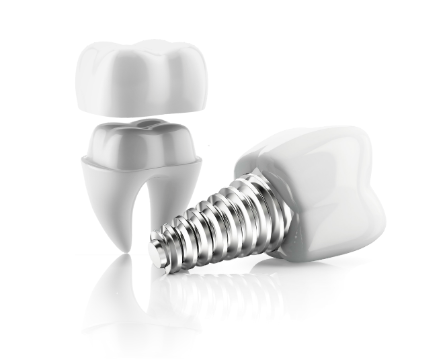 IMPLANT OR CROWN: WHAT IS BETTER?
Modern cosmetic dentistry provides such a wide range of possibilities for restoring the teeth that it sometimes creates a problem of choice for patients.
A dental crown is an ideal solution for restoring one tooth. But this method is applicable only a tip of the tooth is destroyed. A single prosthesis can rest on a part of a tooth, a pin or a stump insert. Can a crown replace an implant? Yes. But only if the root of the tooth is healthy, and only the visible part is ruined. In such situations, crowns can even prevent further damage to the teeth.
If the root of the tooth is damaged, the crown cannot be installed without prior implantation of the artificial root. In this case, other prostheses or implants are used.
Our doctors are always trying to save your teeth offering the most gentle option of restoration. Though, the method depends on the degree of tooth destruction, it is of paramount importance.
So, if the tooth is less than half-destroyed, it can be restored using filling material. If it is more than half damaged, then a crown can be considered. When choosing between a crown or an implant, the condition of adjacent teeth is of primary importance. If they are healthy and with no fillings and destruction, then it is advisable to preserve them and avoid depulpation. In this case, an implant is preferred.
– Serene and Relaxing Atmosphere – our dental spa is centered around patient's well being and comfort.
– Impeccable 1st Class Dentistry and Phenomenal Patient Service – you will be amazed by the superior results and the services that we deliver..our patients are literally pampered.
– Financing Plans – avaible through third party financing companies.
– Major Insurances Accepted – we work with most insurances. Please call us to check if your one can be accepted.
– Your Satisfaction and Happiness – we will not stop working until you will be happy and satisfied.
– Consideration of your Valuable Time – we value your time very much and PROMISE to make every effort possible to see you PROMPTLY at your reserved appointment.
– Friendly, Courteous and Caring Staff – our staff are genuinely caring and concerned about your comfort and well being.
– Lecture and Guilt Free Office – studies have shown that the #1 reason people put off their dental care has nothing to do with fear or pain but has to do with the guilt of putting off the dentist. People keep putting it off because they are afraid of the dentist lecturing them. At our office our goal is to EDUCATE not lecture you or make you feel guilty.
– Mercury free fillings – we have completely given up the OUT OF DATE practice of placing mercury containing silver fillings. Our Dr has perfected the art of white composite fillings to the point that you can't see or feel them as being different than the rest of your teeth. You will LOVE your new METAL FREE smile!

Rebecca Kelly
Sola Dental Spa is a dental office like no other. From the moment you walk in the office you are greeted by the wonderful staff that make you feel like you are a part of their family. The level of care that Gershkowitz has provided for my family and I is something that I will always be grateful for. We actually look FORWARD to our next appointment! Thank you guys for everything.

Vincent L
The Staff of Sola Dental office are very nice. Dr. Anne is amazing and will make you feel comfortable and eases your anxiety with your dental procedure. This place is highly recommended.
Staten Island

James T
Great Doctors and staff, had to have several teeth removed made me feel very comfortable and best part is I didn't feel any pain. Would highly recommend Sola dental to anyone needing a dentist.
Staten Island

Anzhela D
I always have a great experience at Sola Dental Spa. The medical staff is friendly and with always professional approach to each patient. The place is clean and you are always welcome.
Staten Island