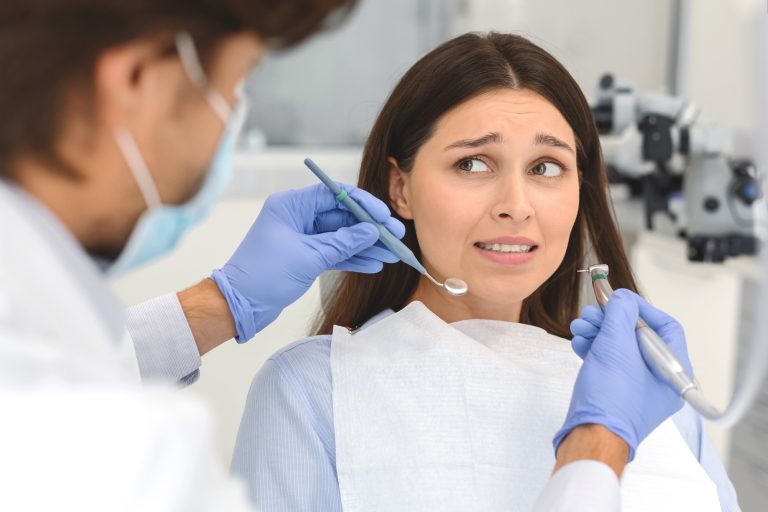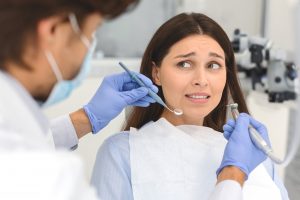 Fear of the dentist is more common than most people think. It often causes unnecessary stress, but times have finally changed and today there is anxiety-free dentistry… Yes, a panic fear of dentists is a disease, which we call dentophobia, odontophobia, or somatophobia. A person suffering from this disease is scared of the dentist, even when the toothache becomes absolutely unbearable.
What is anxiety-free dentistry?
Here it is important to distinguish between normal anxiety before a visit to the doctor and a panic state. 
Dental anxiety is the fifth most common fear (phobia).

50% of Americans are

scared of the dentist

(American Dental Association survey).

36% of people attribute their behavior solely to their fear of dental treatment (British Dental Health Foundation survey).

Women show more anxiety about the upcoming procedure. Men expect more pain. But

stress-free family dentistry

has other goals.
The aim of anxiety-free dentistry is to minimize the signs and to make all the necessary procedures with comfort. In most cases, a variety of sedatives help relieve tension and relaxation. 
How does stress-free family dentistry reduce stress? How can dentists reduce dental anxiety?
Are you looking for anxiety-free dentistry ? Modern stress-free family dentistry allows you to avoid fear and pain! 
We show great respect for our patients' psychological state and create all the conditions for you to feel comfortable. Treatment, while you sleep, can avoid unnecessary anxiety. At Sola Dental Spa we use the most modern methods of anxiety-free dentistry:
Drug sedation.Nitrous oxide or laughing gas – helps you relax and calm down.

High-quality local anesthesia – ensures that there is no discomfort at all.
Don't be afraid to talk to your doctor about your concerns and tell him that you are scared of the dentist. Ask about anxiety-free dentistry options and make dental treatment more comfortable.
Oral sedation is the most common method in the United States and Canada. About an hour before the appointment, the patient takes an oral special sedative to reduce anxiety levels. The patient remains sedated but feels calmer and more confident. 
How can I become less stressed at the dentist? 
Modern anxiety-free dentistry does everything to ensure that patients with dentophobia can get good and easy dental care.
A few simple tips can also help you with the fear:
Find a regular dentist who you get used to and who knows about

anxiety-free dentistry

.

Professional hygiene at least once every six months will keep your teeth safe from cavities and you from the drill. In another case, you should look for

anxiety-free dentistry near me

.
What if you're afraid of the dentist? 
Ask yourself, what scares you at the dentist?. Figure out which fear is real, and which is just a fantasy. The main thing to remember is that the dentist won't do anything against your will. 

Read about the pain relievers that

anxiety-free dentistry

use today.

Come in for a consultation before treatment.

Make an appointment for your next dental appointment right away.
Today, you can safely tell the dentist that you are afraid of the treatment. They will pay as much attention to the cause of your fear as they do to your dental problems. This is how stress-free family dentistry works.
Why am I so scared of the dentist?
Of course, every dentophobia has its own reasons. Sometimes it is possible to cope with the disease only with the help of a psychotherapist. However, in general, we can distinguish two groups of the most common causes why we are scared of the dentist.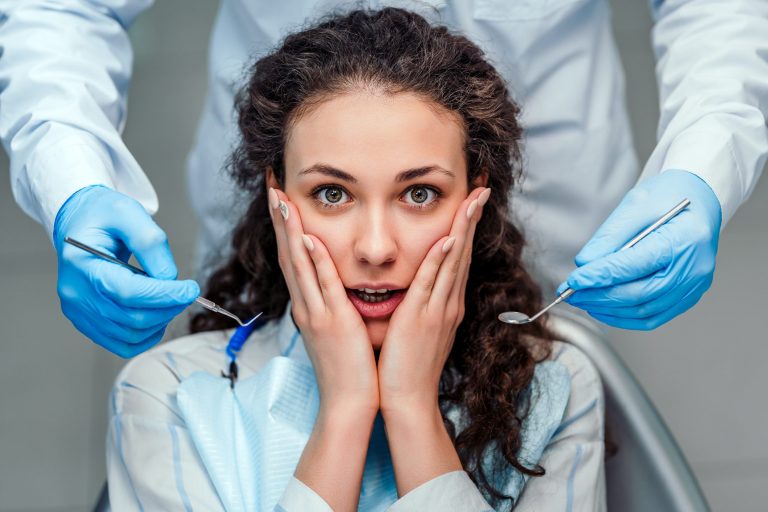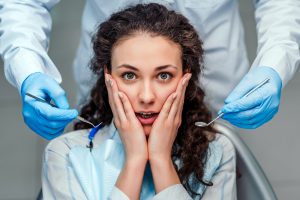 For some people, this fear comes from the past, when dental treatment often became a real test of strength. Many people associate dentistry with excruciating pain, so they prefer to avoid going to the doctor.
The second most common reason is the behavior of the doctor. That's why you need to talk about stress-free family dentistry with your doctor. The patient fears that the doctor will sharply express his dissatisfaction with poor dental care (yeah, most people forget to make regular teeth cleaning and such). Ultimately, it is the fear of being humiliated that causes the patient to endure pain.
Fear is an instinct for self-preservation. It is a natural reflex that seeks to protect us. If there is no nourishment for this reflex, over time, fear goes away. If you think about whether there is any dentist for anxiety patients near me look for it on the Internet.
How do dentists deal with anxiety? How does stress-free family dentistry work?
A dentist is not only a professional who helps patients with oral problems. He is also a friend or an advisor, so such qualities as politeness and friendly behavior are very important. Even the most common phrase can calm a person and increase trust. As a result – anxiety and fear will become secondary issues. The doctor should talk with the patient during treatment. Anxiety-free dentistry cautions the patient before reclining the chair, blowing air, etc., describing the sensations the patient is likely to experience. The dentist should be sincere and not make unrealistic promises. 
Anxiety-free dentistry is not just about taking sedatives. It is also a conversation with the patient. The doctor should explain that the procedure may be somewhat uncomfortable and warn the patient about what to expect after the surgery. This caution will reassure the patient and may lower the threshold of pain sensitivity: ask the patient directly what is bothering him and give the patient time to explain and discuss his feelings.
Is dentistry anxiety common? How does anxiety-free dentistry help?
It is normal to be scared of the dentist. The most important rule is not to reach the point of acute pain!
It makes a big difference whether a person is worried about how things will go at the doctor or is in a quiet panic. If common sense considerations overpower the negative thoughts, then there is no disease.
But if the opposite is true… Your blood pressure is high, the heart starts beating often, and it is difficult to perform the simplest dental commands – these are signs of illness. You must ask your dentist about anxiety-free dentistry!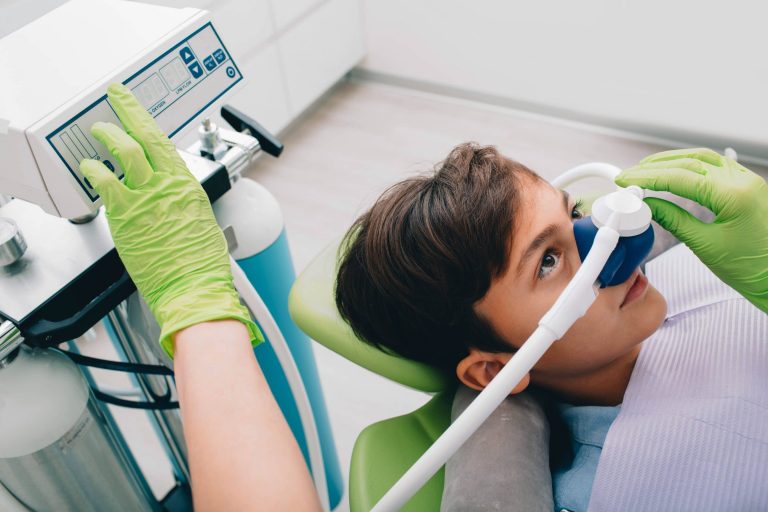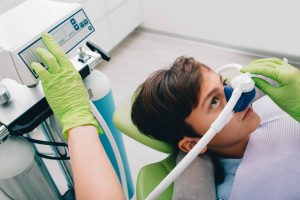 And the argument that the anesthesia is wonderful, and the doctor is a nice and sweet person doesn't work at all. The patient is physically unable to go into the dentist's office, even though his teeth are unbearably painful. In this case, such a condition is no longer normal, because you need to treat teeth anyway. It is best to talk about it with a dentist, who can tell you about the peculiarities of anxiety-free dentistry and help you cope with anxiety.
Anxiety-free dentistry in the 21st century does everything possible so that people suffering from dentophobia can treat their teeth easily and with quality. It is better to choose a clinic where you feel comfortable and relaxed.
The specialist should understand the patient's problem and try to solve it in every possible way. Anxiety-free dentistry near me helps reduce stress.  And you should try to go to the same doctor for treatment. 
It is a hard task to cope with fears, but there are methods that help, even if not completely deal with them, but at least make sure that dentists are not as horrible as they seem.